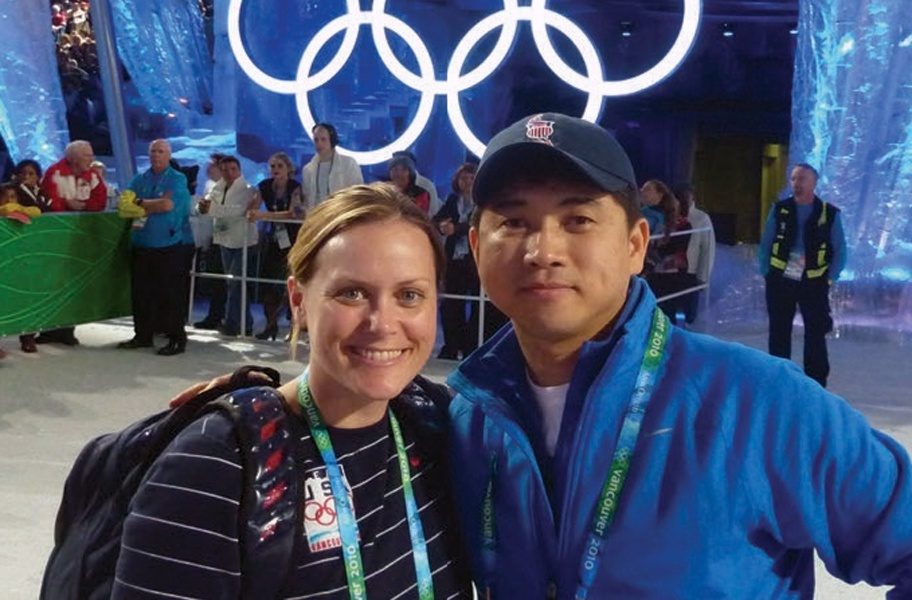 Nicole Detling Miller: Internationally known sports psychologist
For Nicole Detling Miller '97, no two days are alike. If her phone rings at 3 a.m., she heads to work. She traveled to the 2010 Olympics in Vancouver with the U.S. speedskating team. She mentors students as a professor at the University of Utah. She was even a guest on The Colbert Report. And she's totally ready for whatever's next.
A 1997 graduate of Ohio Wesleyan, Detling Miller double majored in sport science and psychology. At first, she had no idea what career these interests could lead to. "It was my dad who called me one day during my junior year who said, 'Nicole, did you know there was a field called sport psychology?' I never looked back," she says.
Once she knew what she wanted to do with her life, she threw herself into it. Grabbing every book on sport psychology she could find, she set her goals: she would work with professional athletes and she would go to the Olympics as the sport psychology consultant with a team. And just like that, she was on her way.
After graduating from OWU, Detling Miller went to Ithaca College to earn her master's degree. She interned at the Mayo Clinic in the sports medicine center; as a Johannson-Gund Research Scholar, she completed significant amounts of research and gained applied experience within her field. From there, she continued on to the University of Utah for her Ph.D. in sport psychology. When she graduated, she was hired as a professor in the department where she earned her degree.
While she was busy getting her education, Miller found the time to start her own sport psychology consulting practice as well. In 1998, after she finished her degree at Ithaca College, she opened the consultancy and began to achieve the dreams she set for herself while still at OWU. She worked with her first professional athlete in 2004, a Major League Baseball pitcher. Since then, she has worked with several athletes in the MLB, PGA, NHL, NBA, NFL, professional mountain biking, and professional cycling. In 2010, she was a fully credentialed member of Team USA at the Olympics, traveling to Vancouver with the U.S. speedskating team.
Detling Miller continues to love her job. "I consider myself one of the fortunate few who 'gets' to go to work every day. I truly have a passion for what I do and sometimes can't believe that I get paid to fulfill that passion every day," she says. She treasures the "aha!" moments, as she calls them, when an athlete overcomes an obstacle that they've worked through together. She recalls "crying like a baby" when the U.S. speedskating team stood on the podium at the Olympics, cherishing the way that she "learns just as much from these athletes as they do from me." International travel, amazing opportunities, and the brilliant athletes she's gotten to know are only the beginning of the rewards of her work.
Of course, with any job, the rewards come with challenges. Detling Miller's dedication to her work is high, and she's "on the clock" all day, every day. And when she's on the clock, the work is not simple. "My work constantly requires me to think outside the box," she says. "No two people, problems, or situations are ever the same and many times the solution is not the obvious. I am constantly tapping into my limited creativity and searching for answers. So it's pretty cool when I have an 'aha! moment as well. It's challenging yet fun to figure out the puzzle and work on putting it together effectively. This challenge is actually a big motivator for me to continue to improve my skills. The world of sports is constantly pushing the envelope, further motivating me to find new and innovative ways to improve the athletes' skills. Sport psychology is one such avenue."
Detling Miller believes passionately that her time at Ohio Wesleyan was significant in preparing her for her career — as well as the rest of her life. "It was the professors at OWU who really taught me to think differently," she comments. "Because of the close-knit atmosphere of the school, I knew many of my professors well and felt comfortable going to them with any questions I had. This sense of community and oneness among the faculty and students gave me the freedom and trust in myself that I needed to expand my horizons."
In fact, Detling Miller says that the community created by faculty and students at OWU is unrivaled. Looking back at what made her time at OWU most successful, she knows taking advantage of the relationships available to her made all the difference, and she encourages current OWU students to do the same. "It's a good idea to make appointments with your professors and ask them for advice on your own career path. Find someone who is already successful in your chosen field and ask him or her for advice on how you can get to that level," she suggests.
Far beyond her days on Ohio Wesleyan's campus, Detling Miller believes the lessons she learned at OWU inform her life every day and can do so for all alumni. "Once you know where you want to go, let nothing stop you. Many obstacles will be put in your path (some from external influences, some internal), but we've learned at OWU not to allow those to be an excuse for not achieving our goals."
by Amanda Zechiel '09