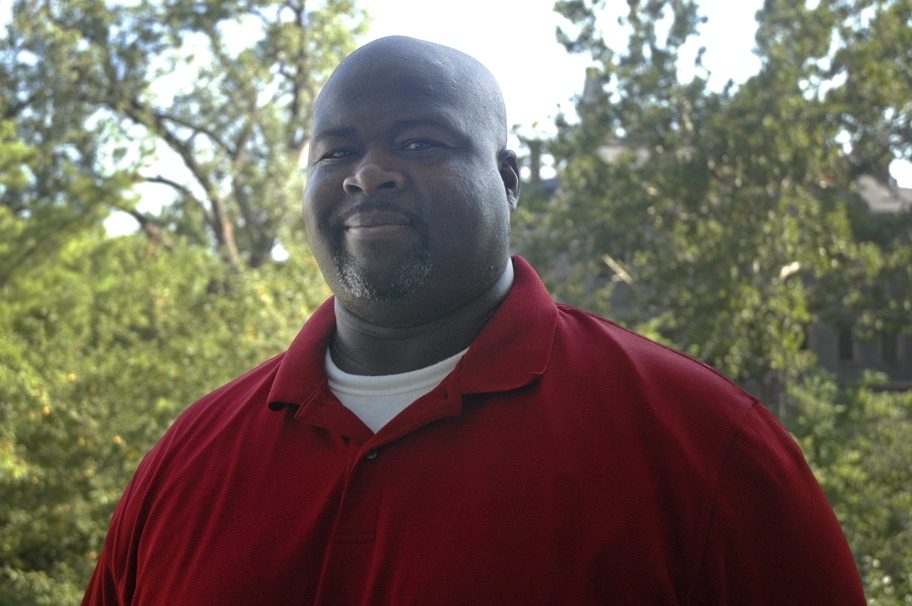 Keith Rucker: Encouraging Success
Keith Rucker '92 has been a prominent member of the Ohio Wesleyan Battling Bishops not only as a student-athlete, but also as a coach. Rucker spreads his passion for football and excellence by teaching players through coaching.
Anyone who knows Coach Rucker can speak of his sense of humor and friendly disposition. Rucker holds his players accountable and is well-respected in the OWU community for his work with the team.
During his time as a student-athlete at Ohio Wesleyan, Rucker played football under head coach Mike Hollway, and participated all four years as a thrower for the men's track and field team under head coach Marv Frye.
Rucker was one of the most prominent and successful Division III defensive football players of his time, as well as making great accomplishments in track and field.
Rucker was one of the most visible performers in Ohio Wesleyan history, winning seven All-America honors in football and seven in track & field, the most by a Battling Bishop. He was named the North Coast Athletic Conference's Defensive Player of the Year.
Rucker capped his Bishop football career by being the first Division III player ever invited to compete in the Hula Bowl all-star game. Ohio Wesleyan led all NCAA Division III teams in rushing defense and allowed only 66 points that season on the way to a 9-1 record and a top-20 national ranking.
The football team's 25-4-1 record during Rucker's 3 seasons is the best of any 3-year span in Bishop history.
In track and field, Rucker was a three-time national champion in the shot put and discus and a four-time selection as Most Valuable Field Performer at the NCAC championship meet. His freshman year, he won the NCAC title in the shot put and was named Most Valuable Field Performer as Ohio Wesleyan won the NCAC title. He went on to place fifth in the shot put at the NCAA Division III meet, becoming Ohio Wesleyan's first indoor track & field All-American.
His senior year, he won the shot put at the NCAC indoor championship meet to become just the second male in NCAC history to win an event for four straight years. He finished second in the shot put at the NCAA Division III indoor championship that year. Outdoors, he won both the shot and discus at the NCAC championship and was named Most Valuable Field performer.
After his senior year at OWU, Rucker signed with the Phoenix Cardinals of the National Football League, and went on to become a strong player in the NFL, playing for five teams during his seven years in the league. He earned a starting spot with the Phoenix Cardinals, and started the majority of his games during his time with the Cardinals and Cincinnati Bengals. Rucker also played for the Kansas City Chiefs, Washington Redskins, and Philadelphia Eagles.
After his last season, Rucker was ready to retire from the NFL, and he returned to Ohio Wesleyan as a coach. Rucker also has coached at the high school level, but returned to OWU to teach collegiate players.