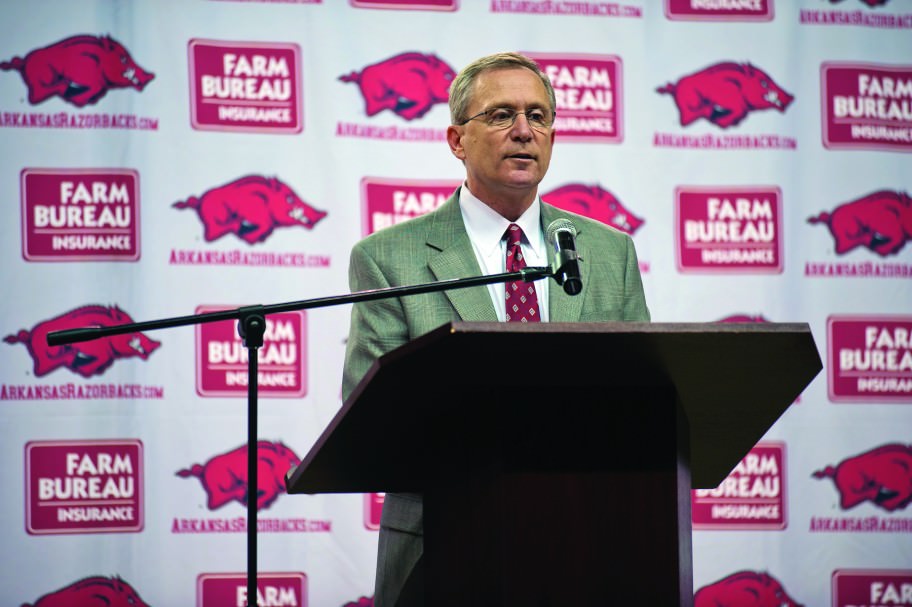 Jeff Long: Preparing Student Athletes
He arrived in Delaware in the fall of 1978, a wide-eyed, overwhelmed freshman from Kettering, Ohio, and he left four years later, confident, successful, and prepared for the next step on his journey.
These days, Jeff Long '82 sees wide-eyed, overwhelmed freshmen arrive on the University of Arkansas campus in Fayetteville, and his mission is to make sure they leave four years later just as confident, successful, and prepared for the next step on their journey as he was all those years ago.
"You see the kids the first week of school, and they remind me of me when I first got to campus," Long said. "A little overwhelmed, not sure of themselves, trying to find their way. It's so gratifying to see them graduate four years later and to know that they're ready for whatever challenges they take on next."
Long is now athletic director and vice chancellor at the University of Arkansas, and the emphasis on academics, leadership, and community service he learned during his years in Delaware forms the foundation of his philosophy at Arkansas.
"Coming from a Division III school, a non-scholarship school, there was always an emphasis at Ohio Wesleyan on developing student-athletes, with an emphasis on academics," Long said. "We wanted to win, and we had great success in a lot of sports, but it was always in the context of education and preparing student-athletes to be successful once they graduated."
Long, who played baseball and football at Ohio Wesleyan, cites long-time Ohio Wesleyan athletics director and golf coach Dick Gordin '52, legendary soccer and lacrosse coach Jay Martin Hon. '08, basketball coach Gene Mehaffey, and football coach Bob Colbert and his younger brother, baseball coach Kevin Colbert – now the Pittsburgh Steelers' general manager – as being particularly influential for him, along with OWU economics professor Uwe J. Woltemade.
Arkansas competes in the mighty, ultra-competitive Southeastern Conference, which makes Long one of the most powerful men in intercollegiate athletics. In 2013, he was named the first chairman of the College Football Playoff selection committee.
But instead of focusing on success in the athletics arena at the expense of all else, he's building a program of tremendous integrity, where young men and women learn the importance of balancing education and athletics, are encouraged to participate in community service, and are prepared to become leaders, not just on the basketball court, football field, and soccer field, but also in the world of business, education, science, finance or whatever field they choose.
"Even at this level, most of our student-athletes aren't going to have the opportunity to continue their sport professionally," Long said. "And for the ones who do, their careers aren't going to last forever. So our job is to make sure that when they leave campus, they're as prepared as possible for the challenges they're going to face."
One of Long's greatest challenges came when it was revealed that football coach Bobby Petrino, who just months earlier had led the Razorbacks to only the third 11-win season in the school's 119-year history, was having an inappropriate relationship with a university employee who may have received preferential treatment from Petrino. Long took decisive action to dismiss the popular Petrino. It was a controversial decision, but in Long's mind one that had to be made to maintain the character and integrity of the football program and the athletic department.
Long said he still receives numerous emails and tweets from fans furious with his decision to move on from Petrino, but difficult decisions are part of the job. And there is no room for compromise when a program is built on integrity, character, and accountability.
That's a lesson Long learned three decades ago at Ohio Wesleyan but remains at the root of his fundamental philosophy.
"My experiences at OWU had a tremendous influence on what I'm trying to do now at Arkansas," he said. "Those years and those relationships really provided the foundation for who I am now and what we're trying to build here."